I wouldn't call myself a super healthy person, but I wouldn't call myself a super un-healthy person either. As I have gotten older however and moved out on my own I have started to understand and realize how important my health is and how to best take care of my body.
Growing up I was always pretty active; I played basketball for many years and I walked mostly everywhere I had to go and my mom always cooked quite healthy for my family. When I got married and moved out on my own I still retained some of these habits, but I definitely wasn't as active as I was due to being closer to my bus stop and having a husband who would drive me places if I needed to go somewhere.
Last January both my husband and I had a switch in mentality (You can read more about his journey on his new blog here) and while his was more about losing weight I wanted to get more toned and just eat better overall. Both of us have seen a huge difference in our energy levels, general health and fitness, and outlook on life.
Disclaimer: I am not claiming to know anything about health and nutrition this is just what I have been doing and what has been working for me.
Workout
I have never been huge into working out, especially going to the gym. I managed to get through my entire four years of undergrad without entering the gym once and I needed serious motivation to work out at all.
Now I usually work out 4-5 days a week and have been in my gym at my new school multiple times. I don't feel right on days when I do nothing with my body and I can feel my muscles cramping up when I don't use them. This lifestyle is shocking for me as it is not something that I ever thought would happen to me, yet I have a pile of workout clothes in my closet I actually wear to work out in, and various workout paraphernalia in a corner of the living room.
I have found that the best workout for me is Pilates, something I can do at home with little to no equipment and something that makes me feel good about my body. I really like Cassie Ho (Blogilates) on Youtube and enjoy following her monthly calendar  as well as making my own routines from moves that I have learned from her.
As for the gym, I go once a week with Nigel. This is my cardio time, time that I spend on the elliptical, stationary bike, or rowing machine. While there is still something about the gym that gets me on edge, going with Nigel both inspires and motivates me. His cardio is amazing and it pushes me to keep going when I don't feel like I can go on and it gets my heart pumping and body sweating.
When it is nice outside and there is the time I love getting outdoors and hiking or taking a long walk. I don't feel like my body is getting a work out, yet when I wake up the next day I can definitely feel it throughout my whole body. There is always so much to see out in nature and my body always feels so refreshed after time outside.
I try to spend at least 30 minutes of each day working out, and on the days where I don't get a workout in I try to stretch or do some Yoga to keep my body relaxed.
Meals
Being out on my own for the first time meant that I was also cooking for myself (and another person) on a regular basis for the first time. There was definitely an adjustment period as I am an adequate cook, but planning what to cook proved to be a challenge. I have learned that meal planning is what works best for me and how I need to cook, so every Sunday the cookbooks come out and I sit down with pinterest, my planner, and an inventory of the fridge and plan out what I am cooking for the next week.
I have been trying to cook as much as I can with fresh ingredients that are in season, not only is this better for the planet, but it is also cheaper which I love. While I know that sometimes you need to just throw a pizza in the oven or cook something up fast, but there is something about cooking something from scratch, turning raw ingredients into something delicious.
While I am not vegetarian and probably won't ever be I try to cook meat-free one to two days a week. This gives me lots of room to experiment and try new dishes that I wouldn't have tried otherwise.
Some of my current favourite recipe books are: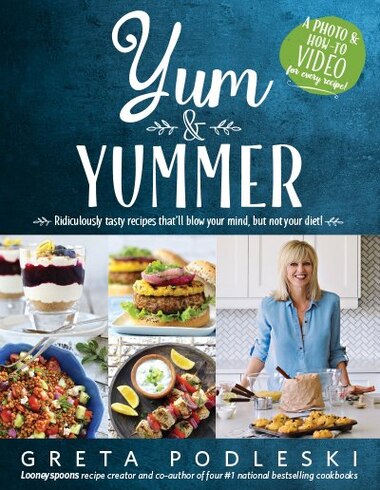 Yum and Yummer by  Greta Podletski
The Real Simple easy, delicious home cooking
Thug Kitchen (disclaimer about the language in this book)
Now I have quite the sweet tooth and while I can't always resist the temptation of chocolate or candy I try to limit myself and not have those types of things in the house and have lots of fruit and more healthy choices available for when I need to snack.
I have had a complicated relationship with my body (I will write more about this at another time), but with these changes I have made to my routine I am feeling stronger, healthier, and more confident with myself and my body.