The Visual Miscellaneum by David McCandless 
Sometimes you just need look at pretty graphs and learn at the same time. This is such a random, fun book that I enjoyed perusing over the course of a few days. Through intricate and beautiful info graphics, different world facts and issues are presented in a new format that both informs and entertains.
A Long Walk to Water by Linda Sue Park 
This is a true story that really spoke to my soul, but it is also a quick read that packs a punch. Set in 1985 and 2008 Sudan the story follows two children through their hardships and long walks. These two people have gone through way more than I could ever even imagine and I enjoyed learning more and becoming a part of it for just a little while.
Eleanor Oliphant is Completely Fine by Gail Honeyman
Eleanor Oliphant is not so great with social skills and she has her schedule for everything carefully mapped out and then one day everything changes. This book was just such a heartwarming and enjoyable read. I found myself both smiling and deeply engrossed in Eleanor's life and didn't want to leave.
When the English Fall by David Williams
If you know anything about me, you know that I have a soft spot for apocalyptic and dystopian stories, but this one took the genre into a new direction. The main characters of this novel are an Amish community who are affected a little bit with the solar storm that hits the world, but they are definitely not as affected as the English. Following this community as they work to bring their lives back to normal as well as deal with the English who are spinning out of control.
Little Fires Everywhere by Celeste Ng
Ever since reading Celeste Ng's first novel late last year I have been desperately waiting for this book to come into the library for me and it did not disappoint. Centering around families forced together, an interracial adoption, and lots of secrets, the characters are real and complex. It was hard to put this book down and I was engrossed from the first chapter and the house fire that the novel opens with….
Dear Fahrenheit 451: Love and Heartbreak in the Stacks: A Librarian's Love Letters and Breakup Notes to the Books in Her Life by Annie Spence 
As an almost librarian I am always drawn to books written and about librarians and this book was such a laugh out loud choice. This book is written as a series of letters to the books in the authors life, and library. The letters are funny, sweet, serious, and super relatable. The second part of the book includes lists of the authors favourite books divided by categories which while interesting are also potentially helpful for future readers' advisory questions.
Crazy Rich Asians by Kevin Kwan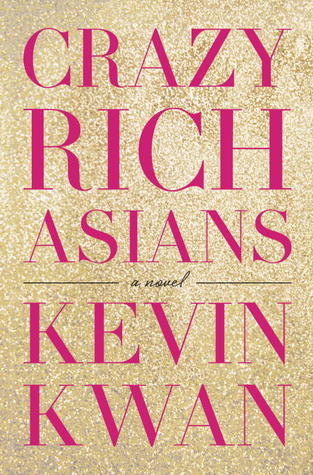 If you are looking for a fun, wild ride through the mansions and penthouse apartments of the Chinese elite, look no further. When Nick brings his girlfriend Rachel home for the summer she has no idea what she is getting into, and neither does he. A grown up Gossip Girl meets soap opera I had a lot of fun reading this book and am excited to pick up the rest of the series (also for the upcoming movie).
Those are the best books that I have read this month. To see all the books that I have read check out my Goodreads page here and find out more about my 2018 Reading Goals here. Happy Reading!
Reading Roundup: