There are a lot of books coming out this year that I am excited for, demonstrated by my ever changing "Future Publications" Goodread's shelf (currently having 31 books on at the time of writing, but who knows how it will change from day to day).
I find out about these books in a variety of ways. Many of them are books by authors that I have loved in the past so I am hopeful about their next books, many I find out about through other book blogs, booktubers on YouTube, and lists from groups such as the Dewey Divas and Dudes.
Now since I use the library to read most of my books, I am sometimes able to put books on hold before they are even out so that I get them as soon as they are processed which means I always checking and changing this list.
Here are a few of the books that I am really excited for coming out in 2018.
Invisible Ghosts by Robyn Schneider (June 5)
I have loved all of Robyn's previous books that I have read and they are a great mix of love and life and makes me happy while reading them. Not too much more to say than these are fun YA books and I am excited for the addition of ghosts.
The Loneliest Girl in the Universe by Lauren James (July 3)
This book has been on my To-Read list for a really long time as it came out in the UK last year and I have been waiting for it to come out in North America. About a girl who is the only surviving member of a space-ship and her slow email communication with a boy who is on a ship to meet her. This book looks both cute and interesting and I can't wait to read it.
Tyler Johnson Was Here by Jay Coles (March 20)
If we have gotten anything in YA the past few years it is amazing books about Black Lives Matter and the lives of black teens. I am excited for this book to see what it adds to the discussion and the story of brothers, justice, and hope. I also love the cover of this book and how it is so different than so many book covers I have seen lately.
Not That Bad: Dispatches from Rape Culture by Roxane Gay (May 1)
Rape is not a fun topic to read about, but it is an important one and one where it is very important for people to tell their stories. I am excited to read this anthology edited by one of my favourite authors, Roxane Gay, and to see what these many writers have to say.
On the Come Up by Angie Thomas (June 5)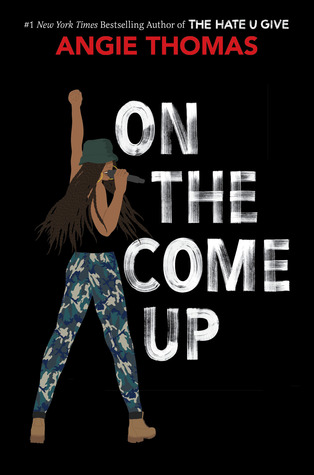 First off, isn't this cover amazing? I freaked out when I saw it for the the first time as it looks so cool. The author behind the book that everyone was talking about last year "The Hate You Give" is back this year and this time with rapping, poverty, and more views into the world of a black teenage girl. I have a feeling everyone is going to be talking about this book this summer.
Finding Yvonne by Brandy Colbert (August 7)
This is another book where I loved the first book by the author "Little and Lion" and it was one of my favourite books of the year and I am so excited to see what the Brandy does next. This book seems to be including many tough topics and people as her previous work did and Yvonne looks to be a complex and interesting character.
An Absolutely Remarkable Thing by Hank Green (September 25)
I have been a fan of the Green brothers for almost 10 years and am so excited for the first book of Hank's. I am intrigued by the science fiction aspects and how it connects to what is going on in the world today. Interested to see where this book goes and how Hank's writing is in comparison to his brother's (not that they should be seen as the same).
Those are just a few of the books that I am anticipating this year. Do you have any upcoming releases that you can't wait to read?