Every month I start these posts with not believing that it is the end of another month and this post is no exception. Summer has really snuck up on me, but I am ready to embrace it the best that I can. We have gotten some bikes that had been living at my parents and fixed them up and starting to ride again. I haven't been on a bike in over 10 years, but it is really "like riding a bike" as I have found that I have not forgotten how to ride at all. I am excited to enjoy riding, outside hang outs, ice cream, and enjoying the outdoors as much as I can.
But moving on to books. I read 20 books in May which is pretty on par for how I am doing this year. I know at this point that I am not going to be hitting 300 books this year like I have in the past two years, but that is okay. This is part of the reason why I don't have a reading goal and rather want to focus on reading things I love and enjoying my reading.
I read lots of lighthearted books this month and looking at my ratings throughout the month most were on the higher end which gives me lots of options to share with you.
If you would like to check out my Storygraph Profile and see everything that I read check it out here
Fat Chance, Charlie Vega by Crystal Maldonado
This was my favourite book that I read all month and it just had me smiling the entire time. Charlie is a lot of things, but she is also fat and she knows it. Things seem to be going well for her when she starts a relationship with her classmate Brian, until she finds out he asked out her best friend first and once again she feels like a second choice. This book felt very real and raw and I really loved Charlie as a character and her outlook on life.
One Last Stop by Casey McQuiston
I loved Red, White, and Royal Blue last year and this book is Casey McQuiston's follow up book, involving the Subway and someone stuck in time. I really loved the setting and characters of this book as they all seemed so alive and different from each other. The main relationship is so sweet and I loved how they were working to figure out how to get Jane out of the 1970's and the mysteries that she may also solve about August's life.
Meet Cute Diary by Emery Lee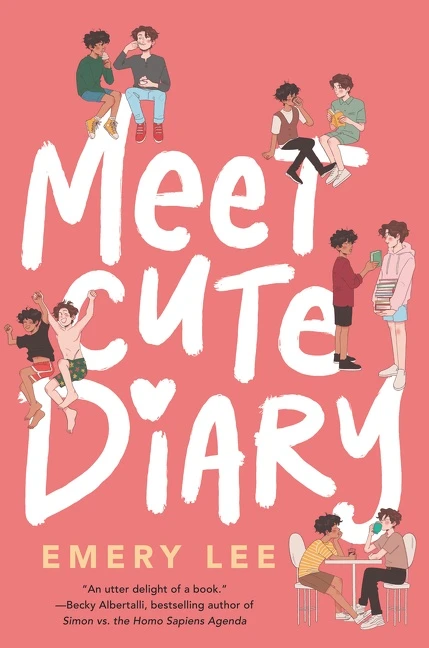 Continuing with the sweet romance books is this one, which I devoured in one evening. Noah runs a blog full of meet-cute stories of transgender teens, except he actually makes up all the story's himself. When someone starts accusing him of making it all up he starts to spiral, until the cute boy at the bookstore agrees to go out with him for show. As the summer progresses Noah leans more and more about himself, who he loves, what it is like to be in love, and how to be someone he is proud of.
Amari and the Night Brothers by B.B. Alston
I do love myself a good magic school story and the fact that this book is diverse and full of so much hope and love. Amari's brother has been missing from 6 months and while no one knows where he is, Amari knows that he is somewhere. Then when she finds a ticking briefcase in her closet her whole life changes. Suddenly she finds herself at the Bureau of Supernatural Affairs and has a summer tryout to join. Everyone else has known about this their entire life, but Amari wants to succeed and she wants to find her brother. I love the world created by this book and Amari herself and found myself getting so involved in the story.
Adventures in Opting Out: A Field Guide to Leading an Intentional Life by Cait Flanders
I really like Cait Flanders; from her first book Less, to the most soothing podcast in the world – Opting Out and this book was a great look into a new part of her life, a part where you aren't trying to do everything and figuring out what is actually important. I think this is a great book to read as things are going back to more "normal" and knowing what is important to keep in your life and what isn't.
Romancing Mister Bridgerton by Julia Quinn
I finished the original Bridgerton series this month and while I enjoyed them all for a bit of historical Romance I think this book may be my favourite of the bunch. I really liked the relationship between Colin and Penelope and felt like it was done in such a great way, plus I love relationships that start off as friends. This book also involves some big secrets that have the power to tear the relationship apart.
Recap
Books Read: 90
Book Riot's 2021 Read Harder: 10/24
A-Z Challenge: 19/26
Around the World 5/12
Popular Authors Challenge: 1/8
Feel free to follow me here on The StoryGraph, or search me by my username andrea_connors