A few days late this month as I have just not had a ton of motivation. I can blame it slightly on the heat wave we have been living through, slightly on it being a week filled with anxiety with ants coming in the house due to the heat, and strangeness around restrictions lifting and not knowing if I am ready for it all. But slightly cooler days are ahead, as of this weekend I have booked my second dose of the vaccine, and our garden is really blessing us lately (hopefully I will have an updated garden post soon).
But onto the books that I have been reading. Every month looking back on the books that I have read is so much fun as I definitely forget what I read near the beginning of the month. Take a look through my recommendations and make sure to let me know what you have been reading lately as well. Check out my storygraph account here (also as of writing this they now have an official app!)
Out of the 19 books that I read this month the mood was most often "reflective" while my highest genre was romance. My average rating of the month was 3.76 (I love that storygraph lets you rating items on quarter stars) and of the 19 books that I read this month 15 were fiction and 4 were non-fiction.
White Tears/Brown Scars: How White Feminism Betrays Women of Color by Ruby Hamad
This book is not an easy read, but it is one that anyone who calls themselves a feminist should read. It made me think about how even still I need to work to make sure I am not centering myself not am I making things worse for people of colour. The book is written so well that it is not difficult to read, but it gives you a lot to think about while reading it.
Beach Read by Emily Henry
In a very different note this is a fun read, but also a romance that feels like it is a whole lot more. When January moves into the beach house that she didn't know her deceased father owned she desperately needs to write another book. Next door is Augustus, her rival (even if he doesn't know that), but who is also struggling to write his next book. Then they strike a deal, they will write in each others styles and teach each other everything they know, but of course there is a whole lot more. This book was sweet but also deep at the same time and I loved the characters, setting, and storyline of this book.
While We Were Dating by Jasmine Guillory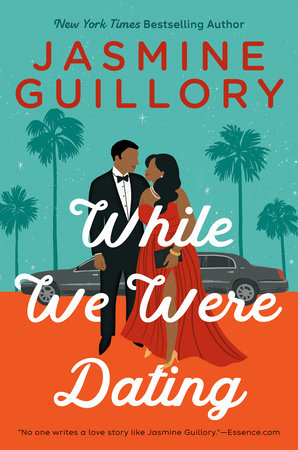 Jasmine Guillory is one of my all time favourite romance authors and she did it again with this one. Ben works in advertising and due to the rest of his team being delayed was the lead on a big pitch, sitting in the audience is the star of the ad, Anna, who immediately likes the pitch, but only if Ben is the lead. When a family emergency happens, their flirting turns into something more, but is Ben up for the Hollywood life, and is Anna ready to invite someone else into her life? I loved the characters of both Ben and Anna and really loved their relationship. I like that Guillory didn't take long to start their romance and it all felt very natural and sweet. The growth of the characters were great and I really loved the entire story.
Somebody's Daughter: A Memoir by Ashley C. Ford
Changing gears to a memoir is this poignant one by Ashley Ford. Sharing the story of growing up with a father in prison, a life of poverty, and much more. This book was a look into a life, complicated family dynamics, relationships, body image, and so much more and it was wonderful to read.
The Happy Ever After Playlist by Abby Jimenez
Another romance this month with perhaps the most traditional, with a misplaced dog and a little hate into love. I loved this book for its connections, but also how it didn't speed through he tough times and instead let you wallow in it for a little while. This book is number two in a series, but I am excited to read the 1st and 3rd books now.
Pack Up the Moon by Kristan Higgins
This is the best book that I read this past month, and perhaps even this year, but it is also one of the saddest. This is the story of a widower and the letters his wife left for him, one for every month after her passing with tasks for him to accomplish. We also are bought back into their relationship and her dealing with her own father's death. As we go through the year we see Joshua learn to grieve and to move on in such a beautiful way. I couldn't put this book down and thought it was a wonderful look into young widowhood.
Heartstopper, Volume Three by Alice Oseman
Every new volume of this graphic novel will find its way onto this blog post and I really don't mind. This edition takes us on a school trip to Paris, a look into mental illness, and figuring out who they want to come out to. This is such a sweet series and it always makes me so happy to read.
Recap
Books Read: 109
Book Riot's 2021 Read Harder: 12/24
A-Z Challenge: 20/26
Around the World 6/12
Popular Authors Challenge: 4/9 (One author added this month)
Feel free to follow me here on The StoryGraph, or search me by my username andrea_connors